---


Compound Metering Device
Cost-saving device designed to increase efficiency. It ensures accurate proportioning of chemical concentrate to water and controls the flow to the Vibrodyne machine. Available for floor or wall mounting.
---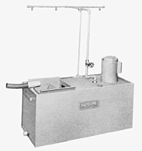 Compound Recirculation System
Large capacity settling tank and recirculation pump unit. Designed to mount adjacent to the back of a Vibrodyne machine. Maintains fresh compound mixture while removing excess debris, burrs, chips or shavings. Saves money on water and compound (10, 38 & 55 gal. capacity). Piping valves and nozzles included.
---
Tub Dividers

Simple clamp-on construction. Divides Vibrodyne tub into individual compartments. Allows seperate processing of parts.(When ordering, please specify model number of finishing machine.)
---
Hand Magnets
Perfect for removing smaller ferrous parts from the Vibrodyne tub. Comes in three sizes based on weight capacity. Finger-tip release.
Model 71 - 2-3lb. capacity
Model 72 - 4-5lb. capacity
Model 74 - 8-9lb. capacity
---
Model VS-24 "Screen Separator"
This is the most economical, efficient screen separator in the field and is designed for automatic operation in either portable of fixed position. The top screen is available in a variety of mesh opening sizes to facilitate the separation of your media and parts. Media will separate and drop through the screen into a tote or hopper pan underneath. Ideal for use with the VE-100 or VE-200 Vibrodyne machines, it has a 1/3 hp drive and weighs 110 lbs.
---
Model VS-48 & VS-60 "Screen Separators"
These heavy-duty dual screen units are designed for efficient, high speed separation of parts and media. The top screen separates and discharges parts to the front of the separator. The lower screen then catches and discharges the media to a separate chute where it can fall into a hopper pan and be returned to the machine. Constructed with larger screen sizes, these separators are ideal for use with Model VE-400, VE-600, and VE-1000 finishing machines. They have a 3/4 hp drive and weigh 1000 lbs.
---
| Home Page | Company Information | Finishing Machines |
| Media and Compounds | Applications | Specifications | Sample Processing Data Sheet |
---
Vibrodyne
2853 Springboro West, Dayton, Ohio 45439
Phone: (800) 718-5732 or (937) 299-3900

---